HP Elitebook 850 G8 Core I7-1165G7 Features And Performance
The HP Elitebook 850 G8 Core I7-1165G7 Features And Performance Review
The HP EliteBook 850 G8 display is a great choice for business users who need a quality display with plenty of features.
The anti-glare display is easy on the eyes, and the brightness is adjustable to accommodate different lighting conditions.
The touchscreen is also useful for interacting with Windows 10 and other applications. The EliteBook 850 G8 display is also compatible with an HP Active Pen, which makes it easy to take notes or draw on the screen.
The HP EliteBook 850 G8 also features cutting-edge connectivity and data protection technologies like Intel® Thunderbolt 4 (2 ports), an intelligent docking connector for a seamless connection. Here are the notebook's features:
HP Elitebook 850 G8 Display:
The HP EliteBook 850 G8 has a 15.6-inch display with 1920 x 1080 Full HD (FHD) for sharp, clear visuals.
An anti-glare screen coating reduces glare and mirror-like reflections when viewing the display from extreme angles or direct sunlight. The screen is also fine-tuned for improved color accuracy so that text and graphics appear clear.
It has a maximum brightness of 250 nits, allowing you to view the screen even in direct sunlight. The color gamut is also wide, which gives richer and more realistic colors.
The color space coverage is 72%, and the color gamut is 45% NTSC. This ensures the colors on your screen are accurate and vivid.
The display also features a touchscreen for intuitive interaction with your favorite apps or for drawing and writing on display with the HP Active Pen. The pen is pressure sensitive, so you can also control your line weight.
This notebook understands up to 1024 different pressure levels, which gives you great control over the thickness of lines you draw. It also tracks your movements at a rate of 240 PPS so that you can draw or write naturally.
HP Elitebook 850 G8 Design:
The HP EliteBook 850 G8 is designed for business, which means it's built to be tough and comfortable to use daily.
It's durable and hardy, which means it can handle everyday knocks, drops, and bumps without getting damaged and cracked.
The HP EliteBook 850 G8 display also has an edge-to-edge glass screen that is extremely thin. The screen edge is around the display giving you more screen real estate for windows or apps.
It's also easier to clean because it doesn't get covered in fingerprints and smudges. After all, there's an exposed edge.
The bezel around the screen isn't as thick as previous models, so there's more screen space for your work.
Like other HP notebooks, the display has a backlit keyboard for when you need to type in low-light conditions and watch videos or movies in dark rooms. The backlighting matches different colors so that you can customize it to your preferences.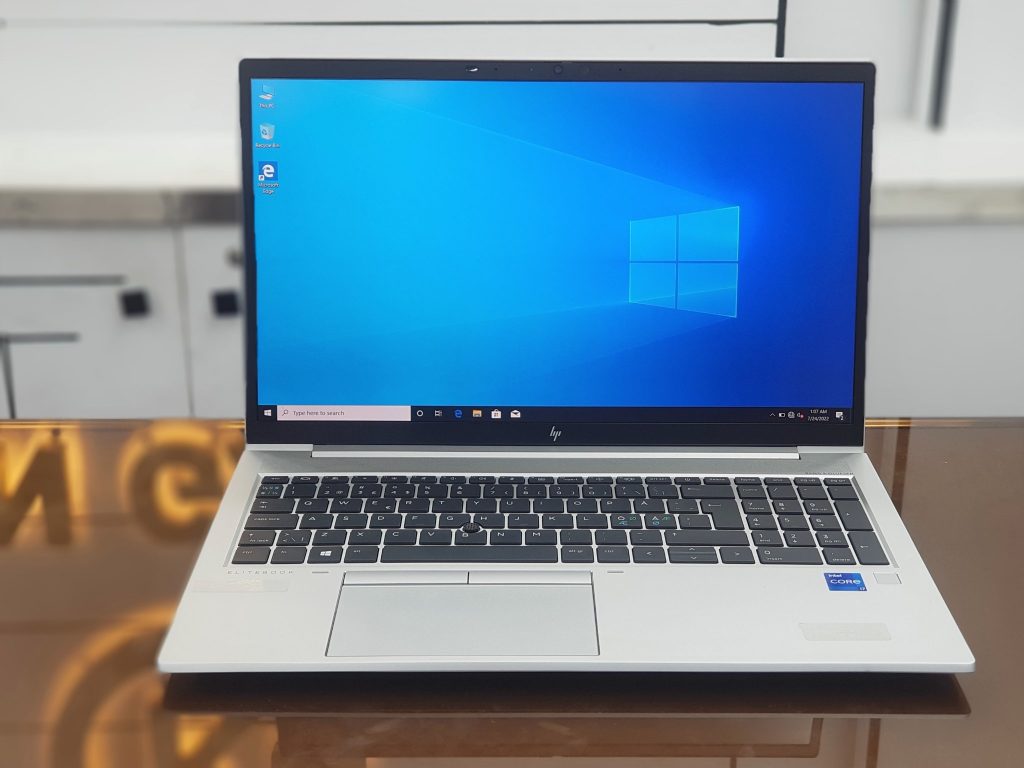 HP Elitebook 850 G8 Processor:
The HP EliteBook 850 G8 has an 11th Generation Intel® Core™ i7 processor. Specifically, it uses Intel® Core™ i7-1165G7, which is perfect for powering productivity apps, multi-tasking, and accessing your files.
The i5 is engineered for long battery life, so you can use the HP EliteBook 850 G8 for up to 13 hours while on standby.
The processor fast laps at 2.4 GHz, which can boost your performance with a turbo boost of up to 4.2GHz in certain workloads.
The i5 processor is also compatible with Intel® Turbo Boost Technology 2.0, which allows you to manage processor speeds based on workloads and power needs.
The processor cache is 8MB L3 meaning more tasks can be completed from memory, reducing the time needed to access the hard drive.
It has four processor cores for faster multitasking and smoother day-to-day tasks. It also supports Intel® Hyper-Threading Technology which enables a maximum of eight logical processors to run on the processor.
I5 processors are ideal for light to medium workloads, which give you the power to multitask and access passwords, documents, photos, and videos with ease.
The i5 provides the performance needed to stream high-definition video, play games, and run demanding programs such as Photoshop.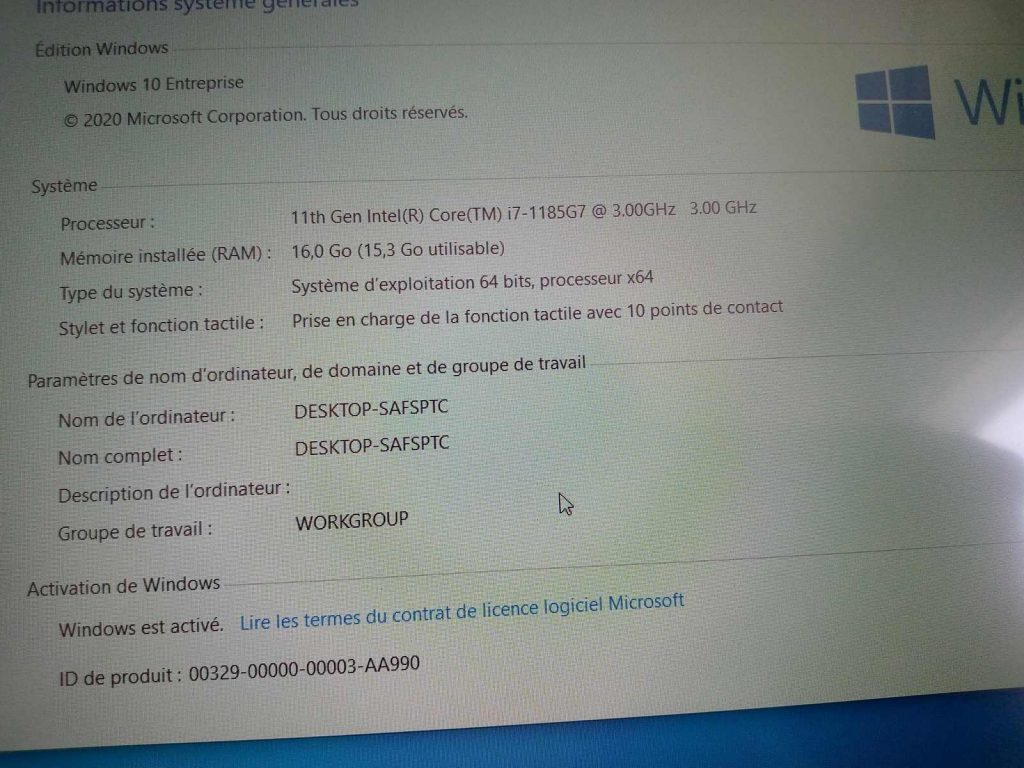 HP Elitebook 850 G8 Operating System:
The HP EliteBook 850 G8 features Windows 10 Pro Professional 64. This gives you the ability to access your files and documents on the go and also allows you to improve system performance with a streamlined design.
Windows 10 Pro is also compatible with Windows Hello, which uses facial recognition technology to log you into your PC without entering a password.
IT professionals will appreciate the built-in security features, like Credential Guard and Device Guard. Credential Guard helps protect user credentials and data, protecting your customers and businesses from malware and hackers.
Device Guard prevents malicious applications from installing on the PC, so it stays safe. It also comes with a free Windows 11 upgrade.
Windows 11 offers users more control over their devices and better security to help protect their information.
However, the timing of updates may vary per device. The availability of features and apps may vary by region. Certain capabilities require particular hardware.
HP Elitebook 850 G8 Memory:
The HP EliteBook 850 G8 has 16 GB DDR4-3200 MHz RAM (2 x 8 GB), which should be more than enough for both business and general use.
The memory is upgradeable to 64 GB giving you plenty of space for apps and other programs. An ideal amount of RAM should be enough to run many programs simultaneously without causing bottlenecks.
This should mean smoother multitasking, so you can work on email while browsing the web without your laptop slowing down or crashing.
Having more than one memory slot is useful because if one is damaged, you can simply replace it with another, rather than replacing the whole notebook.
Using two memory slots also doubles the computer's maximum speed, reducing delays when you're working on intensive tasks like video editing or even programming.
The HP EliteBook 850 G8 has 256 GB of SSD storage space. This is a huge amount of space, there's more than enough room for your operating system, apps, and documents.
The SSD is also much faster than a regular hard drive with the same capacity. It has a read speed of 756.1 MB/s, much faster than the standard 5400 RPM hard drive. It also has a write speed of 450 MB/s, much faster than the standard 5400 RPM hard drive.
This means your computer will boot up faster; the HP EliteBook 850 G8 should be able to load apps and documents more quickly and allows you to access more files with less delay. It has a transfer speed of 3200 MT/s.
However, the HP EliteBook 850 G8 lacks the optical drive, so if you need to watch or play discs, you will have to use an external drive.
HP Elitebook 850 G8 Graphics:
HP Elitebook 850 G8 has an integrated graphics card. Integrated graphics are often slower than dedicated graphics cards and sometimes share system RAM.
The HP EliteBook 850 G8 has Intel® Iris® Xᵉ Graphics, a popular mid-range graphics processor. Intel® Iris™ Xᵉ Graphics provides a good balance of performance and power consumption.
It comes with 1GB of shared system RAM (so you can work on multiple apps simultaneously), similar to the amount in older Intel graphics cards.
Graphics are useful for apps that use a lot of graphics but still need more power than the processor can provide.
The HP Elitebook 850 G8 has Intel® HD Graphics 620, which supports some advanced formats and can get things like smoother video rendering and gaming, but not professional-level graphics.
HP Elitebook 850 G8 Connectivity:
Ports:
The HP EliteBook 850 G8 has a variety of input/output ports. It includes:
2 Thunderbolt™ 4 with USB4 Type-C® 40Gbps signalling rate. These ports transfer data faster and are more versatile than other ports.
2 SuperSpeed USB Type-A 5Gbps signalling rate lets you transfer data up to 5Gbps.
1 Microphone combo /stereo headphone jack for connecting an external microphone and headphones.
1 HDMI 2.0b output for connecting to a compatible HDTV.
1 AC power jack for charging the battery.
Wireless:
The HP EliteBook 850 G8 has Intel® AX201 Wi-Fi 6 (2×2) wireless support. This uses the latest Wi-Fi standards, which means better range and lower power consumption.
It uses 802.11ax technology, which offers faster speeds and more capacity. The Wi-Fi should be simple to set up using the Windows 10 setup assistant, but it's also possible to set it up manually.
Wi-Fi can be a more reliable, faster way to connect with these systems. The HP EliteBook 850 G8 is also compatible with Bluetooth® 5 combo, which offers a faster, more familiar way to connect than the older Bluetooth 4.1 type.
Bluetooth 5 is a new version of the standard that's faster and more power-efficient, and it can be used from long distances without being interrupted by walls.
It also supports Miracast, which lets you wirelessly connect to a compatible TV or projector. This feature lets you show your work on a bigger display while using your laptop as the mouse and keyboard.
The HP EliteBook 850 G8 has two Thunderbolt 4 Ports, allowing you to use an external monitor or charge devices at super-fast speeds.
It has HP Module with NXP NFC Controller NPC300 I2C NCI-VCI Bridge that enables it to communicate to contact-less smart cards and NFC tags.
HP Elitebook 850 G8 Multimedia And Input Devices:
Camera:
The HP EliteBook 850 G8 has a 720p HD privacy camera. This is suitable for video calls and pictures but not professional-quality photography. The resolution is 1280 x 720 pixels.
The webcam has a built-in mic and dual digital microphones to make your videos clearer. The audio quality is good, so you should be able to hear the other person on video calls.
The camera has an 88-degree viewing angle, which means you can see more of your surroundings while making video calls.
Audio:
The HP EliteBook 850 G8 has stereo speakers, which are reasonably loud and crisp. Dolby Audio Premium certified, which means they're optimized for the best sound.
The system automatically adjusts itself based on your set volume and should offer a good balance of audio quality and volume.
The HP EliteBook 850 G8 also has three multi-array microphones for better sound during video calls. The microphones are on the speaker grille and integrated subwoofer for optimal audio capture. The automatic noise reduction and background noise cancellation will help you get a clearer sound.
Keyboard:
The HP EliteBook 850 G8 has a physical keyboard. This means the keys are less likely to get stuck when you type a lot and may even last longer than those on your PC.
The keyboard is spill-resistant, meaning the keys don't show any damage after accidentally dropping something on them.
The HP EliteBook 850 G8 has three separate zones for your fingers to interact with, so you can fully customize the keyboard to your preference.
The keys are well-designed and respond well to your touch so that you can type quietly or quickly. You should have no problems using this keyboard for long periods.
In addition to letters, numbers, punctuation marks, and symbols, the keyboard has Shift, Caps Lock, Tab, Enter, the Spacebar, and Backspace.
The numeric keypad can be used for entering numbers and text, so this is a great choice for people who need to work frequently with numbers.
Pointing Device:
The HP EliteBook 850 G8 has a Clickpad with multi-touch gesture support. This means you can use gestures, like swiping and pinching, to interact with the system, apps, and files.
You'll also be able to scroll with the touchpad, although the gesture support is more advanced than that on traditional laptops. The system automatically learns your preferences as you use it.
HP Elitebook 850 G8 Battery:
The HP EliteBook 850 G8 has an HP Long Life 3-cell, 56 Wh Li-ion, which offers several hours of battery life. This battery type provides better longevity than Nickel Cadmium (NiCd) batteries, typically sealed inside the laptop.
The integrated battery also means that you can replace the battery with a new one if it stops holding a charge or if it's damaged.
The battery life is over 18 hours. The battery life is better than most laptops in its class and comparable to most Ultrabooks with similar screen resolution and average screen size.
The battery weighs 204 grams, slightly heavier than most laptops and a little heavier than typical Ultrabooks. This extra weight is due to the back cover, which covers a larger battery.
The battery is in-built into the machine and cannot be removed. This design helps protect the battery but also means that you must use an external power supply to charge it.
The battery, however, is serviceable by warranty and can be replaced.
HP Elitebook 850 G8 Software:
The HP EliteBook 850 G8 comes with various software that helps you work more efficiently and get done more. These Applications include:
HP Connection Optimizer:
The HP Connection Optimizer is a security and monitoring application that helps protect your data from intruders and ensure it is available when you need it.
The software also monitors your device usage and blocks applications from accessing data that isn't needed.
HP Image Assistant:
The HP Image Assistant is software that helps with editing pictures. It can automatically recognize faces and edit out unnecessary shadows. It also has many pre-set filters, which you can use to adjust the colors and brightness in your photos.
HP Hotkey Support:
HP Hotkey Support is software that lets you customize what each button on the keyboard does. This is ideal if you're using an application that isn't supported by the integrated buttons or prefer using your own shortcuts.
You can also change the function of certain keys, such as changing the brightness of your screen.
HP Noise Cancellation Software:
The noise-cancellation software is meant to help you eliminate background noise and make your calls clearer.
There are multiple filters for improving the overall fidelity of your voice and cancelling out background sounds like music at a restaurant.
HP PC Hardware Diagnostics UEFI:
The UEFI Diagnostic utility is meant to help you troubleshoot any problems your system may have. It gives you access to reports of recent tests and hardware checks.
This allows you to check for defective parts and update drivers to get the most out of your computer.
HP Support Assistant:
The HP Support Assistant is a helpful tool that will notify you when you need to update drivers or other software. It can also check your device for issues and let you know if there are any problems.
Buy Office (Sold Separately):
Buy Office software helps you create and edit Word, Excel, and PowerPoint files. The software allows you to work with multiple people at once. It also has Task Manager Software, which lets you track time spent on your documents.
HP Power Manager:
HP Power Manager Software is a utility that lets you control when your computer wakes up from sleep and shuts down.
Using the software, you can customize how often the computer sleeps and how long it remains on before shutting down.
HP Elitebook 850 G8 Software:
myHP:
myHP is a feature that gives you access to your files and apps, even if you're not near your computer.
It lets you access your data online and protects it from malicious programs. You can also access your e-mail, pictures, and other content from any device, so you don't need to keep files on your computer.
HP Privacy Settings:
The HP Privacy Settings software allows you to manage the data that HP can see about your device and use it for. You can customize your privacy settings so that only trusted programs can access your device's information.
HSA Fusion for Commercial:
The HSA Fusion for Commercial allows IT managers to manage and monitor computers remotely from a central location.
This includes access to an inventory of the devices on their network and monitoring a user's computer usage.
This feature allows IT managers, to monitor computers more efficiently and track how much time they spend on them.
HSA Telemetry for Commercial:
The HSA Telemetry for Commercial software is meant to give IT managers the ability to track and monitor a user's computer from a central location.
This allows IT managers to collect information that would otherwise be difficult to obtain, such as usage time, data rates, and security settings.
Touchpoint Customizer for Commercial:
The Touchpoint Customizer for Commercial software provides access to features that are meant for businesses.
You can use this feature to customize your device and make the most of it. You can update the firmware, set up VPN connections, manage your computer remotely, and change software settings. The software is only available on certain HP devices.
HP Notifications:
The HP Notifications software is a utility that lets you receive notifications and alerts on your device. You can choose what kinds of alerts you receive and customize them.
This feature also allows you to control which applications listen for notifications from HP and which can access the microphone on your device.
HP QuickDrop:
HP QuickDrop software lets you send files to others using your device. Files can be sent from your computer, tablet, or smartphone so you can share them quickly and easily.
You can also send files to multiple recipients at once and set up a schedule for computers to connect with others. The software is only available on certain HP devices.
Tile App:
The Tile App software allows you to use your device for location-based interaction, so you can always find it. The software lets you create a personal tracking tag that can be placed on your device.
If your device is lost or stolen, you can use the Tile app to locate it and have it returned. You can also use the tracking tag to set up a geofence so you can be notified if your device has entered or left a specific area.
HP Wireless Button Driver:
The HP Wireless Button Driver software is meant to help you improve the performance of your device's wireless radio.
You can set up and manage a network that supports wireless devices. This allows you to eliminate interference and boost the performance of your wireless devices, so you can more easily connect to the Internet.
Management Features:
HP Driver Packs:
HP Driver Packs are a utility that can identify outdated or missing drivers on your computer. You can install the driver packs directly from HP.
These include device driver software for printers, scanners, and other devices. This allows you to update any outdated drivers on your computer and fix problems that may be occurring as a result.
HP System Software Manager (SSM):
The HP System Software Manager software provides access to the computer's operating system and scans for any problems.
It can install updates for various components, such as Microsoft Active Protection Services and Windows Defender. The SSM provides access to the device's firmware and other system software components.
HP BIOS Config Utility (BCU):
The HP BIOS Config Utility is software that helps you to configure your computer's hardware and software, such as the operating system, BIOS, and boot sequence.
You can also use this feature to create customized setups for computers in a specific environment or with specific hardware components.
HP Client Catalog:
The HP Client Catalog software is an application that works with the HP System Software Manager. It allows you to view a list of available system software and select what to install.
This includes critical, security, and recommended updates for the operating system and other programs and optional updates. The client catalog can be used on either a local or network computer.
HP Manageability Integration Kit Gen4:
The HP Manageability Integration Kit Gen4 software allows IT managers to track and manage computers. You can remotely access computers, get information about their operating systems and components, and customize settings on each computer. '
This can be used to monitor multiple computers more efficiently at once so you can easily track what's happening with them.
HP Elitebook 850 G8 Security:
The HP EliteBook 850 G8 Security software lets you set up security features that help protect you when using your computer.
You can add a password and a biometric scanner to your device. The fingerprint reader can also be used for more secure access to the device and its data.
There are security management apps that can help you to manage and monitor your device, as well as its data. They include:
Absolute Persistence Module:
This module lets you specify what you want to do with your data if the IT policy is removed or corrupted. You can restore and maintain access to the following:
The persistent data will be restored if the device is restarted and encryption is enabled. You can also configure the Absolute persistence module to run a command at shutdown.
HP Secure Erase:
The HP Secure Erase module is a feature that lets you permanently erase your data from the device. The module lets you choose how to erase your data and how quickly it occurs securely. You can use the HP Secure Erase module on hard drives, removable media, and solid-state drives.
Power-On Authentication:
This feature lets you select a specific set of credentials for your device. You can also specify an emergency override password to access the device if you forget your primary password.
The power-on authentication module lets you define a timeout period before the device can be accessed.
HP Sure Click:
HP Sure Click is a feature that integrates with the web browser on your device. It lets you run applications and access website content by verifying whether it is safe.
HP Sure Click protects you from malicious software, such as malware and phishing websites, before you open them in your browser. With this feature, you can be confident that the content you are interacting with is safe to use.
HP Sure Sense:
HP Sure Sense is security software that protects your computer from viruses and other malware. It uses artificial intelligence (AI) to detect and block threats in real-time.
HP Sure Sense also includes a feature called "Application Isolation," which isolates suspicious applications from running on your computer, preventing them from harming your system.
HP Sure Start Gen6:
HP Sure Start Gen6 is an integrated security feature that includes HP BIOSphere, HP Client Security Suite Gen 4, and an embedded TPM 2.0 chip.
The BIOS protection helps prevent malware from infecting your device and encrypts the data on your hard drive.
HP Client Security Suite Gen 4 provides a custom firewall and anti-virus protection and lets you control what information you share over the Internet.